The Team 91 Georgia Directors' Training Academy is designed for players seeking high-level training in a small group environment led by some of the area's best coaches.
Each training session will include stick work, positional training, small group competitions, and situational scrimmages. Players will be broken up during the sessions by positions, grade, and skill level in order to maximize their academy training experience.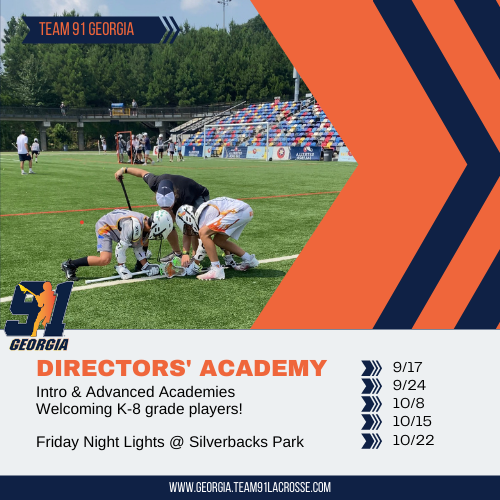 The Team 91 Georgia Director's Training Academy fall session will kick-off Friday, September 17!
A tremendous amount of time and attention to detail will be spent on:
Teaching Lacrosse IQ
Off-Hand Development
Individual Skills Training
Creating a Fun & Positive Environment
We take pride in helping athletes become better lacrosse players. Each player in the Team 91 Georgia Director's Academy will work on and learn exactly what they need to take their game to the next level.
Sessions: 9/17, 9/24, 10/8, 10/15, & 10/22
Grad Years 2029-3031 | 6 - 7 pm
Grad Years 2026-2028 | 7 - 8 pm
Location: Silverbacks Park, Atlanta
LEARN TO PLAY DIRECTORS' ACADEMY
K - 2ND GRADES | Grad Years 2034-2032
Team 91 Georgia is focused on developing great lacrosse players. New players starting out will receive detailed instruction in the lacrosse fundamentals required to become great lacrosse players. The coaching staff at Team 91 Georgia provides the optimal balance of instruction, repetition, competition, and fun! Join us for the fall session of our Directors' Academy - Friday Night Lights at Silverbacks Park!
Session Dates: 9/17, 9/24, 10/8, 10/15 & 10/22
Time: 6 to 7 pm
Location: Silverbacks Park, 3200 Atlanta Silverbacks Way, Atlanta, GA 30340
Registration Fee: $125
Limited spots are available. Register today to secure your training.