2022/23 Winter Training Academy
Offense and Defense Positional Training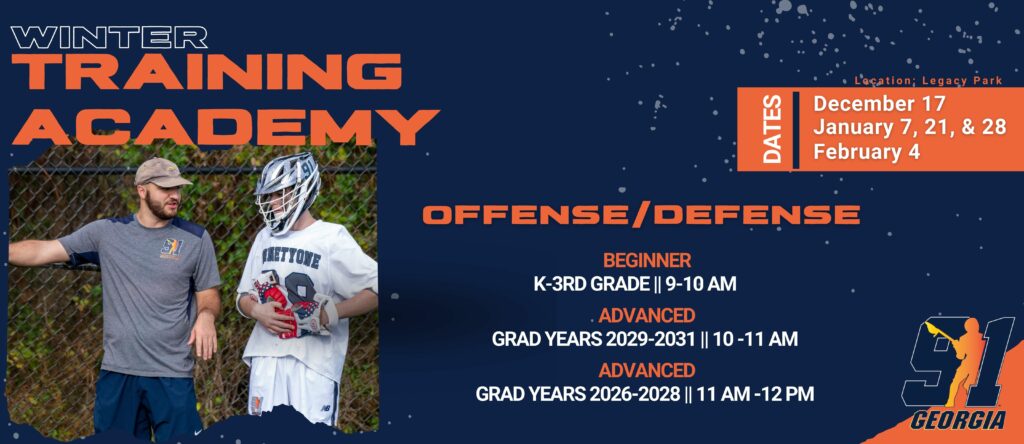 Choose 3, 4, or 5 session packages. 


**GOALIES: Please use goalie-specific sign-up. Do not use this sign-up.
TRAINING DATES:
December 17 @Legacy Park
January 7, 21, & 28  @Legacy Park
February 4 @Mill Springs Academy
SESSIONS:
Boys Beginner (K-3rd grade) || 9 to 10 am
Boys Advanced 2029-2031 (4th-6th grades) || 10 to 11 am
Boys Advanced 2026-2028 (7th-9th grades) || 11 am to 12 pm

Girls 

Advanced 2025-2028 (7th-10th grades) ||10:30 am to 12 pm
2022/23 Winter Training Academy
Who We Are: Developing great lacrosse players. It's what we do. We take pride in helping athletes become better lacrosse players. Our Team 91 Georgia Winter Training Academy will provide the optimal balance of instruction, repetition, and competition.
Now is the time to get in reps to be ready for the 2023 spring lacrosse season.
During our training, players will experience the following:
Speed/Agility Training
Detail Oriented Stickwork
Live Drills and Proper Contact Practices
Location: Legacy Park, 170 Cox Rd, Roswell, GA 30075 (February 4 session@Mill Springs Academy)